Washington Bartlett
Democratic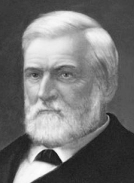 capitolmuseum.ca.gov
| Date | Party | Office | Votes | Result |
| --- | --- | --- | --- | --- |
| 09-02-1873 | Independent | SD-08 | 0 | Win |
| 11-02-1886 | Democratic | Governor | 84970 | Win |
Candidate Biography:
Born: February 29, 1824 in Savannah, Georgia
Died (in office): September 12, 1887 in Oakland, CA
1856-1857: Member, San Francisco Second Vigilance Committee
1957-1859: Deputy County Clerk, San Francisco County
1859-1863: County Clerk, San Francisco County
1866: Candidate for San Francisco County Auditor (Lost)
1867-1869: County Clerk, San Francisco County
1870-1873: Member, California State Harbor Commission
1882-1883: President, Society of California Pioneers
1883-1885: Mayor, City of San Francisco
California's only Jewish Governor.
Serving only 247 days, Bartlett was the first California Governor to die in office.
In 2008, Orange County Superior Court candidate Mike Bartlett claimed that Governor Burnett was his great-great grandfather. Another candidate, Nick Thompson, filed a suit asking that the claim be removed from his candidate statement. A court ruled that the burden of proof was on Thompson, and without affirming that Bartlett was a relative, decided that it could not prove the Bartletts were not related.
Source: History of Political Conventions in California, 1849-1892 by Winfield J. Davis (1893)
Source: Directory of the California Legislature. Twenty-First Session, 1875-6 by William Halley (1876)