William Frederick Prisk
Democratic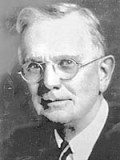 prisk.org
| Date | Party | Office | Votes | Result |
| --- | --- | --- | --- | --- |
| 11-03-1896 | Democratic | SD-03 | 0 | Win |
Candidate Biography:
Born: April 2, 1870 in Grass Valley, CA
Died: December 1962
1889-1891: Publisher, Grass Valley Evening Telegraph (at age 17)
1893-1890s: Editor & Publisher, The Grass Valley Union
1906: Purchased the Pasadena Star and the Long Beach Press and consolidated the papers into one.
1912-1952: Editor & Publisher, Long Beach Press-Telegram
Author of

1895 Pictorial History of Nevada County, California

Prisk was the youngest member of the State Senate in 1896 at age 26.
PLACENAME: William F. Prisk Elementary School (Home of the "Pioneers") is located in Long Beach.