Shirley Temple Black
Republican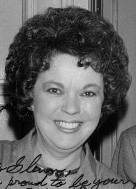 Photo Credit: imglib.lbl.gov
| Date | Party | Office | Votes | Result |
| --- | --- | --- | --- | --- |
| 12-12-1967 | Republican | CD-11 | 4064 | Loss |
Candidate Biography:
Born: April 23, 1928 in Santa Monica, CA
Married: John Agar (m. 1945, div. 1949), Charles Black (m. 1950)
Children: Susan Agar (Falaschi), Charles Jr., Lori Alden Black
Died: February 10, 2014 in Woodside, CA
1969: US Delegate to the United Nations
1974-1976: United States Ambassador to Ghana
1976-1977: White House Chief of Protocol
1989-1992: United States Ambassador to Czechoslovakia
Silver Screen: Temple was an actress who appeared in 58 movie.
This individual has a Hollywood Star.
BEVERAGE: The "Shirley Temple" non-alcoholic cocktail was named for Temple.