John K. Van de Kamp
Democratic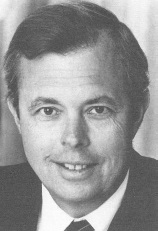 CA Blue Book (2000)
| Date | Party | Office | Votes | Result |
| --- | --- | --- | --- | --- |
| 04-29-1969 | Democratic | CD-27 | 48983 | Loss |
| 11-02-1982 | Democratic | Attorney General | 4015953 | Win |
| 11-04-1986 | Democratic | Attorney General | 4691142 | Win |
Candidate Biography:
Born: February 7, 1936 in Pasadena, CA
Married: Andrea
Child: Diana
Died: March 14, 2017 in Pasadena, CA
1966-1967: US Attorney, Central District of California
196?: Director, Executive Office of U.S. Attorneys (US Dept. of Justice)
1971-1975: Federal Public Defender, Central District of California
1976-1982: District Attorney, County of Los Angeles
1990: Primary Candidate for Governor (Lost; 41%)
2004-2005: President, California State Bar
2005-2006: Chair, City of Pasadena Task Force on Good Government
2006-2008: Chairman, California Commission on the Fair Administration of Justice
2010: Proponent, Proposition 17 [Auto Insurance: Driver's History] (Lost; 47.9%)
2012: Proponent, Proposition 34 [Death Penalty Prohibition] (Failed; 47.2%)
In 1987, Van de Kamp was the target of an two attempted recalls, both led by Michael Bogatirev. The recalls failed to qualify for the ballot.