Caroline Menjivar
Democratic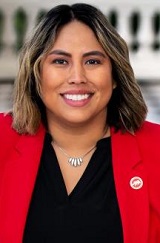 | Date | Party | Office | Votes | Result |
| --- | --- | --- | --- | --- |
| 11-08-2022 | Democratic | SD-20 | 88358 | Win |
Candidate Biography:
Born: April 21, 1989 in Los Angeles, CA
Married.
Military Service: USMC Reserves (2009-2016)
2017-2018: Bohnett Fellow, Los Angeles Mayor's Office of Gender Equality
2018: Field Deputy, Councilwoman Nury Martinez
2018-2019: Field Deputy, Los Angeles Mayor Eric Garcetti
2019-2021: East Valley Area Representative, Los Angeles Mayor Eric Garcetti
CLOSE CONTEST: By one week after the primary election, Menjivar gained the second spot in the general election, leading the third-place candidate by 547 votes (0.6%).
OUCH: While canvassing during the 2022 Primary, Menjivar broke her ankle.