Thomas M. Storke
Democratic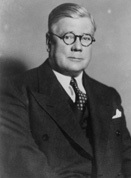 Library of Congress
| Date | Party | Office | Votes | Result |
| --- | --- | --- | --- | --- |
| 11-09-1938 | Democratic | Senate3 | 0 | Win |
Candidate Biography:
Thomas More Storke
Born: November 23, 1876 in Santa Barbara, CA
Family: Son of Charles A. Storke
Died: October 12, 1971 in Santa Barbara, CA
1914-1921: Postmaster, City of Santa Barbara
1951-1952: Member, California Crime Commission
1955-1960: Member, Board of Regents of University of California
AWARD: Winner of the Pulitzer Prize in Journalism, for Editorial Writing (1962).
PLACENAME: The Thomas More Storke Plaza is located at the UC Santa Barbara campus. Storke Tower, with its famous campanile, stands nearby. Also, Storke Road is a major road in Goleta.
Source: The Centennial of The University of California, 1868-1968
Source: "Biographical Directory of the United States Congress, 1774-Present" (U.S. Library of Congress) [http://bioguide.congress.gov/]