Joe Nation
Democratic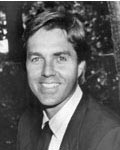 CA Blue Book
Candidate Biography:
Born: July 18, 1956 in Richardson, Texas
Married: Linda Nicolay-Nation (m. 1983, div.), Gizelda
Children: Kristen and Alexandra (twins), Mariana
1992-2000: Member, Marin Municipal Water District Board of Directors
1992: Primary Candidate for CD-06 (Lost; 3.9%)
1996-2000: Commissioner, Curriculum Development and Supplemental Materials Commission, California Department of Education
2006: Primary Candidate for CD-06 (Lost; 34%)
2008: Primary Candidate for SD-03 (Lost; 27.6%)
200?-Present: Professor, Stanford Institute for Economic Policy Research
Nation was the author of a 2011 report on the rapid rise of pension costs for public employees. The report contained analyses of the California Public Employees' Retirement System (CALPERS) and California State Teachers' Retirement System (CALSTRS).
Source: California Legislature Handbook (2001-02)