Guy Houston
Republican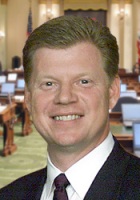 CA State Assembly
Candidate Biography:
Born: October 20, 1961 in Walnut Creek, CA
Married: Ingeborg
Children: Bartlett, Sumner, Glynnis Rose
1992-1994: Member, Dublin City Council
1994-2001: Mayor, City of Dublin
2008: Candidate for Contra Costa County Board of Supervisors (Lost; 45%)
2010: Early Primary Candidate for SBOE-01 (Withdrew)
2009-Present: Lobbyist, Platinum Advisors
2011: Candidate for Chair of the California Republican Party (Withdrew)
FULL HOUSE DROUGHT: The longest period without a floor session that all members attended (all 80 Assemblymembers and all 40 Senators) was 7 years and 11 months between July 10, 2007 and June 1, 2015. Houston was the presiding officer of the Assemby on the last day before that gap.
Bart Houston is the backup quarterback for the Badgers football team at the University of Wisconsin–Madison.
Source: California Legislature Handbook (2003-04)