Ira Ruskin
Democratic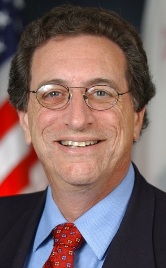 CA State Assembly
Candidate Biography:
Ira Bruce Ruskin
Born: November 12, 1943 in New York, New York
Married: Cheryl Perman (m. ~1974)
Died: July 3, 2014 in Redwood City, CA
1995-2004: Member, Redwood City Council
1999-2001: Mayor, City of Redwood City
2012: Early Primary Candidate for SD-11 (Withdrew)
On May 13, 2011, "doctors discovered the tumor above his right ear" and on the 14th "went into surgery, which removed about 95 percent of the abnormal cell mass." Ruskin received an "aggressive treatment of radiation and chemotherapy". At that time, it was thought that while his was tumor "not curable, it is containable." Ruskin announced in late May 2011 that he had " incurable brain cancer and would retire from politics."
Source: California Legislature Handbook (2005-06)