Anthony Adams
No Party Preference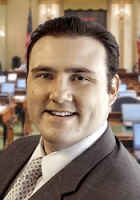 CA State Assembly
| Date | Party | Office | Votes | Result |
| --- | --- | --- | --- | --- |
| 11-07-2006 | Republican | AD-59 | 67499 | Win |
| 11-04-2008 | Republican | AD-59 | 91366 | Win |
Candidate Biography:
Anthony T. Adams
Born: February 27, 1972 in Los Angeles, CA
Married: Deanna
1996: Intern, Assemblyman Keith Olberg
1999: Campaign Manager, Bill Postmus for San Bernardino County Supervisor
Previous: Executive Analyst, Supervisor Bill Postmus
Previous: Director of Legislative Affairs, County of San Bernardino
Previous: Member, Hesperia Public Safety Commission
2009: Chair, San Bernardino County Republican Party
2010-2011: Member, California State Board of Parole Hearings
2012: Primary Candidate for CD-08 (Lost; 3.3%)
2014-2021: Deputy Public Defender, Mendocino County
In 2009, Adams is the target of two attempted recalls (one led by Edwin T. Snell, and the other by David Bartells). Both recalls failed to qualify. The Bartells attempt came closer than most to qualification, with almost twice the required signatures submitted; it was only because of a very low valid signature rate that the recall failed. Recall proponents announced in late December that they were abandoning the recall attempt.
Source: California Legislature Handbook (2007-08)
Source: "Complete List of Recall Attempts" by the California Secretary of State (Accessed 2/14/2011)