Curren D. Price
Democratic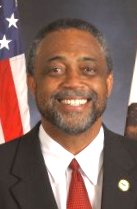 City of Inglewood
Candidate Biography:
Curren DeMille Price, Jr.
Born: December 16, 1950 in Los Angeles, CA
Married: Lynn Suzette Green (m. 1981), Del Richardson
1993-1997: Member, Inglewood City Council
1997: Candidate for Mayor of Inglewood (Lost)
2000-2006: Commissioner, Los Angeles County Insurance Commssion
2001-2006: Member, Inglewood City Council
2009: Resigned from the State Assembly on June 8.
2012: Delegate, Democratic National Convention
2013: Resigned from the State Senate on June 30.
2013-Present: Member, Los Angeles City Council
Price is one of nine legislators who served in both houses of the California State Legislature since 1990 but never termed out of either.
CLOSE CONTEST: Price narrowly won a spot in the 2006 General election when he defeated Steve Bradford by 113 votes (0.6%).
Source: California Legislature Handbook (2007-08)