Cameron M. Smyth
Republican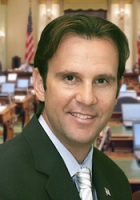 votesmyth.org
Candidate Biography:
Born: August 19, 1971 in Pasadena, CA
Married: Lena
Children: Gavin and Rowan
Family: Son of Dr. Hamilton Clyde Smyth
199?-1994: Field Representative, California Republican Party
1994-2000: District Representative, Assemblyman and State Senator William J. "Pete" Knight
1996: Campaign Manager, Pete Knight for State Senate
2000-2006: Member, Santa Clarita City Council
2003: Mayor, City of Santa Clarita
2005: Mayor, City of Santa Clarita
2008: Delegate, Republican National Convention
2012: Early Primary Candidate for SD-27 (Withdrew)
LEGISLATION: Author of AB 2408 (2010), restructuring the Office of the Chief Information Officer (OCIO) into the California Technology Agency [Chapter 404, Stats of 2010].
Family: Hamilton Clyde Smith was Superintendent of the William S. Hart Union High School District (1976-1992), Member of the Santa Clarita City Council (1994-1998) and Santa Clarita Mayor (1997).
Source: California Legislature Handbook (2007-08)