Edward Gilbert
Nonpartisan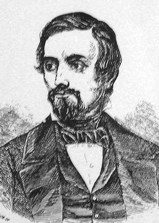 CA Newspaper Hall of Fame (CalPoly SLO)
| Date | Party | Office | Votes | Result |
| --- | --- | --- | --- | --- |
| 06-03-1849 | Nonpartisan | Delegate | 0 | Win |
| 11-13-1849 | Nonpartisan | CD-AL | 5100 | Win |
Candidate Biography:
Born: 1822 in Cherry Valley, New York
Military Service: ARMY (Mexican-American War)
Killed: August 2, 1852 near Sacramento, CA
1849: Delegate, First California Constitutional Convention (representing San Francisco District)
During the 1849 Constitutional Convention, Gilbert opposed the creation of the elected office of Comptroller because he felt it was important to keep the number of elected offices to a minimum.
Gilbert challenged Denver to duel after Denver criticized an article that Gilbert had written in the Alta California calling the gift of financial assistance to members of the Donner Party a ruse to raise the political popularity of Governor John Bigler. The terms of the duel called for rifles at short range to be fought at "The Oaks", a location twelve miles from Sacramento. In the first round, Denver fired into the air, while Gilbert aimed and him and missed. Denver attempted to call off a second round of the duel, but Gilbert refused and Denver shot and killed him.
Gilbert was entered into the California Newspaper Hall of Fame (located at CalPoly San Luis Obispo).
Source: History of Political Conventions in California, 1849-1892 by Winfield J. Davis
Source: Governmental Roster, 1889. State and County Governments of California by W. C. Hendricks
Source: "Biographical Directory of the United States Congress, 1774-Present" (U.S. Library of Congress) [http://bioguide.congress.gov/]