Cruz Reynoso
Democratic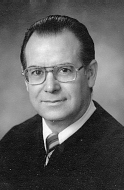 courtinfo.ca.gov
| Date | Party | Office | Votes | Result |
| --- | --- | --- | --- | --- |
| 11-03-1964 | Democratic | AD-75 | 9135 | Loss |
Candidate Biography:
Born: May 2, 1931 in Brea, CA
Married; Jeannene (m. 1956, d. 2007)
Children: Trina Heter, Ranene Royer, Len Reid-Reynoso and Rondy Reynoso
Military Service: ARMY
Died: May 7, 2021 in Oroville, CA
1959-1960: Legislative Assistant, State Senator William Beard
1965-1966: Deputy Director, California Fair Employment Practices Commission
1966: Staff Secretary, Governor Pat Brown
1967-1968: Associate General Counsel, Equal Employment Opportunities Commission
1976-1982: Justice, California Court of Appeal
1982-1987: Associate Justice, California Supreme Court
1993-2004: Vice-Chair, U.S. Commission on Civil Rights
2012: Proponent, Proposition 31 [State Budget. State and Local Government.] (Failed; 39.2%)
PLACENAME: The Sacramento chapter of the La Raza Lawyers was formally renamed the "Cruz Reynoso Bar Association" in April 2016.
AWARD: Presidential Medal of Freedom (2000)
In 1986, Reynoso was the target of two attempted recalls, both led by Michael Bogatirev. The recall failed to qualify for the ballot.
Some biographies indicate that Reynoso worked for the Fair Political Practices Commission in 1965-1967, but the FPPC was not created by initiative until 1974. Reynoso actually worked for the California Fair Employment Practices Commission.
NOTABLE MOMENT IN HISTORY: In December 2011, Reynoso swore in Greg Sperla as a member of the California State Bar. In June 2012, he swore in Esmeralda Soria as a member of the Bar. Two awesome members of the legal profession.