James F. Breen
Democratic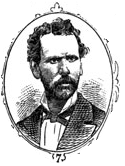 ushistoryimages.com
| Date | Party | Office | Votes | Result |
| --- | --- | --- | --- | --- |
| 09-04-1877 | Democratic | AD-06 | 0 | Win |
Candidate Biography:
James Frederick Breen
Born: January 21, 1841 in Keokuk, Iowa
Married: Catherine McMahon (m. 1870)
Children: Peter William, Margaret, and Grace
Died: April 23, 1899 in San Francisco, CA
1860s-1870s: District Attorney, San Benito County
1874-1879: Justice, San Benito County Court
1879-1896: Justice, San Benito County Superior Court
At age 4 (in 1846), Breen and his parents were members of the Donner Party. One of the most detailed accounts of the issues Donner Party was the journal kept by Patrick Breen, father of the Assemblyman. The Breen family was one of only two families that didn't lose a single member. His sister Isabella was the last surviving member of the Donner Party when she died in 1935.
Source: History of Political Conventions in California, 1849-1892 by Winfield J. Davis (1893)
Source: Pen Portraits Compiled by R.R. Parkinson, Submitted by Nancy Pratt Melton as part of the California Genealogy & History Archives