Agoston Haraszthy
Democratic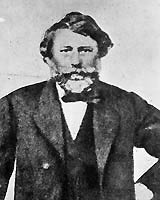 library.sonoma.edu
| Date | Party | Office | Votes | Result |
| --- | --- | --- | --- | --- |
| 09-03-1851 | Democratic | AD-01 | 0 | Win |
Candidate Biography:
Born: August 30, 1812 in Futak, Bacska County, Hungary
Married: Eleanora Dedinsky (in 1833 or 1834)
Children: Geza, Attila, Arpad, Ida, Bela, and Otelia
Died: July 6, 1869 near Hacienda San Antonio, Corinto, Nicaragua*
1850: Sheriff, San Diego County (the first person to hold that office)
1850: City Marshall, City of San Diego (the first person to hold that office)
1855: Assayer, US Mint in San Francisco
According to the San Diego Historical Society, Haraszthy is identified as the "Father of the California Wine Industry"
Two of his sons (Arpad and Attila) married the twin daughters (Jovita and Natalia) of Mariano G. Vallejo
When Haraszthy died, no body was ever found. He had fallen into an river with alligators while trying to cross it on a fallen tree.
Be Fruitful and Multiply: Haraszthy had six children.
Source: History of Political Conventions in California, 1849-1892 by Winfield J. Davis (1893)