Mariano G. Vallejo
Nonpartisan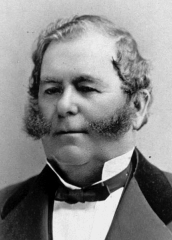 City of Vallejo
Candidate Biography:
General Mariano Guadalupe Vallejo
Born: July 7, 1807 in Monterey, Alta California Province, Viceroyalty of New Spain, Spanish Empire [now California]
Married: Francisca Benicia Carrillo
Children: Andonico Antonio, Epifania de Guadalupe (John B. Frisbie), Adelayda, Guadalupe, Jovita Francisca and Natalia Veneranda (twins who married the sons of Agoston Haraszthy), Uladislao, Plutarco, Benicia, Napoleon Primero, Dr. Platon Mariano Guadalupe Vallejo (the first native Californian to be a physician)
Military Service: Mexican Army (Bear Flag Revolt, Mexican-American War)
Died: January 18, 1890 in Sonoma, CA
1825: Secretary to Governor Luis Argüello of Alta California
Previous: Commander of the Presidio at San Francisco
1831: Member, Mexican Territorial Legislature of Alta California
1834: Elected as a Delegate to the Mexican Congress (Did Not Attend)
1835: Founder, Town of Sonoma
1836-1846: Commanding General of the Northern Frontier [Centralist Republic of Mexico]
1846: During the Bear Flag Revolt in Sonoma, General Vallejo was captured and imprisoned in Sutter's Fort from June 14th to August 1st.
1847: Founder, City of Benicia
1847: Member, Executive Department of California Legislative Council [Did not meet]
1849: Delegate, First California Constitutional Convention (representing Sonoma District)
1850: Founder, City of Vallejo
Vallejo was a member of the California Legislature both while it was a Mexican Territory (in 1831) and as a US State (in 1849).
High Rank: General (Army of the Republic of Mexico)
PLACENAME: The city of Benicia is named for Vallejo's wife, The City of Vallejo was named for Vallejo (and started on land he owned) in 1844, and Mare Island (near Vallejo) was named in to celebrate the location where Vallejo's favorite horse was found after it fell off a raft during a storm in 1835.
NAVAL VESSEL: The USS Mariano G. Vallejo (SSBN 658) was a nuclear missile submarine operated by the US Navy from 1965-1995. The sail for the Vallejo, eventually to be placed in a park in Vallejo, currently sits on a dock on Mare Island. The sponsor of the submarine was Miss Patricia Oliver Vallejo McGettigan, great-great-granddaughter of the General.
PLACENAME: Vallejo Street in San Francisco is named for this individual. [Source:

The Beginnings of San Francisco

by Zoeth Skinner Eldredge (1912). Online at sfgenealogy.com]
UNACKNOWLEDGED LATINO: This elected official was excluded from the list of "Previous Latino Members of the Legislature" by the Latino Legislative Caucus [accessed 6/1/2011]. This list was later corrected by renaming it "California Latino Legislative Caucus Former Members" [as of 2/16/2014].
Be Fruitful and Multiply: Vallejo had 11 children.
Source: California's Stately Hall of Fame by Rockwell D. Hunt (1950)
Source: History of Political Conventions in California, 1849-1892 by Winfield J. Davis (1893)
Source: Governmental Roster, 1889. State and County Governments of California by W. C. Hendricks
Source: History of California, Volume 23 by Hubert Howe Bancroft (San Francisco; History Co., 1888)
Source: "The Names of the President and Senators of the First Senate of the State of California. Convened at the Capitol of San Jose, December the 15th, One Thousand Eight Hundred and Forty Nine." (1849)