John A. Sutter
Nonpartisan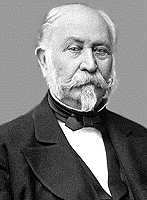 sfmuseum.org
| Date | Party | Office | Votes | Result |
| --- | --- | --- | --- | --- |
| 06-03-1849 | Nonpartisan | Delegate | 0 | Win |
| 11-13-1849 | Nonpartisan | Governor | 2201 | Loss |
Candidate Biography:
Johann Augustus Suter
Born: February 23, 1803 in Kandern, Baden, Germany
Married: Nanette
Children: Eliza, Emil Victor, William Alphonse, Augustus
Military Service: Mexican Army (Micheltorena War of 1844)
Died: June 18, 1880 in Washington, DC
1839: Established Sutter's Fort (originally "New Helvetia")*
1840: Became a Mexican citizen to qualify for the Nueva Helvetia land grant.
1846: During the Bear Flag Revolt in Sonoma, Mexican General Mariano G. Vallejo was captured and imprisoned at Sutter's Fort from June 14th to August 1st.
1849: Delegate, First California Constitutional Convention (representing Sacramento District)
PLACENAME: Sutter's Fort is now Sutter's Fort State Historic Park
PLACENAME: In addition to Sutter County, California is home to 120 Streets, four Elementary Schools, three Middle Schools, two parks (Modesto and Pleasanton), two Libraries (Sutter and Yuba City) named for John Sutter. Sutter Elementary in Sacramento was renamed in 2023.
"Nueva Helvetia" appears on the map of California on display at Colton Hall. The nearby community of Sacramento, founded by his son Augustus, would eventually include Sutter's Fort.
Silver Screen: Sutter has been portrayed in a dozen films and mini-series.
Source: California's Stately Hall of Fame by Rockwell D. Hunt (1950)
Source: History of Sacramento County, California by Thompson & West (1880)
Source: History of Political Conventions in California, 1849-1892 by Winfield J. Davis (1893)
Source: Governmental Roster, 1889. State and County Governments of California by W. C. Hendricks