Samuel I. Jamison
Democratic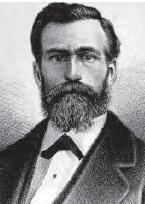 History of Santa Clara County by J.P. Munro-Fraser
| Date | Party | Office | Votes | Result |
| --- | --- | --- | --- | --- |
| 09-07-1875 | Democratic | AD-07 | 0 | Win |
Candidate Biography:
Born: June 26, 1828 in Alleghany County, Maryland
Married: ?????????, ???????????, and Carrie W. Clencay
Children: Emma S., Robert H., Ora B. and Pauline J. (twins), Frank C., Mary Etta, Howard, Eva, Lottie C., Samuel I., Relfe L., Joe S., Mollie E., Belt P., and Eddie P.
1869-1875?: Member, Santa Clara County Board of Supervisors
Be Fruitful and Multiply: Jamison had fifteen children.
Source: Directory of the California Legislature. Twenty-First Session, 1875-6 by William Halley (1876)