Barack Obama
Democratic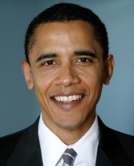 Library of Congress
| Date | Party | Office | Votes | Result |
| --- | --- | --- | --- | --- |
| 11-04-2008 | Democratic | President | 8274473 | Win |
| 11-06-2012 | Democratic | President | 7854285 | Win |
Candidate Biography:
Barack Hussein Obama
Born: August 4, 1961 in Honolulu, Hawaii
Married: Michelle Obama (m. 1993)
Children: Malia and Natasha
1992: Director, Project Vote
1994-1997: Executive Director, Developing Communities Project
1997-2004: Senator, Illinois State Legislature
2000: Primary Candidate for Congress [Illinois] (Lost; 30.4%)
2005-2008: Member, United States Senate [Illinois]
2009-2017: President of the United States
PLACENAME: California is home to the Barack Obama Charter School (Compton), Barack Obama Global Preparation Academy (Los Angeles), Barack Obama Academy (Oakland), and a street in Seaside named Obama Way.
PLACENAME: California State Route 134 between Interstate 210 in Pasadena and State Route 2 in Glendale has been designated as the "President Barack H. Obama Highway."
AWARD: Nobel Peace Prize (2009).