Curt Hagman
Republican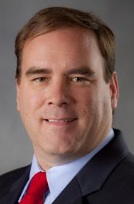 State Assembly
Candidate Biography:
Born: January 2, 1965 in Anchorage, Alaska
Married: Grace (m. ~1995)
Children: Jonathan and Elizabeth
1999-2003: Member, Public Safety Commission
2000-2004: Member, Chino Hills Parks and Recreation Commissioner
2004-2008: Member, Chino Hills City Council
2008: Mayor, City of Chino Hills
2014-Present: Member, San Bernardino County Board of Supervisors
GOOD DEED: Hagman helped two people out of their burning vehicle following an accident outside of the Assemblyman's apartment on the evening of February 16, 2009. Hagman heard the crash, and after finding the burning car, helped the two inside get out shortly before it exploded.
LEGISLATIVE HISTORY: According to research by the editor of this site, Curt Hagman was the first California legislator to be born in Alaska. The second was Das Williams, who was elected to the Assembly two years after Hagman.
LEGISLATION: During his time in the legislature, Hagman introduced 106 bills, of which 25 were chaptered.
Eagle Scout
Grace was a 2016 Delegate to the Republican National Convention.
Source: California Legislature Handbook (2009-10)
Source: "Businesswoman, Chino Hills mayor vying for 60th District seat" by Bethania Palma Markus. San Gabriel Valley Tribune (October 15, 2008)