Mike Morrell
Republican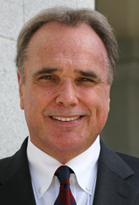 morrellforassembly.com
Candidate Biography:
Born: October 14, 1952 in Covina, CA
Married: Joanie
Children: Christopher, Kristen, David and Matthew
2014: Resigned from the State Assembly on April 3.
QUOTABLE: "[T]he Assembly of the State of California, on behalf of a grateful citizenry, hereby expresses its heartfelt thanks, appreciation, and prayers to all who have served — and who currently serve — in the Armed Forces of the United States, in recognition of the countless sacrifices and the indispensable role these brave men and women have played even before the founding of our nation on July 4, 1776, in preserving, protecting, and defending the freedoms and liberties of all Americans, and expanding freedom throughout the world." (HR 32 of 2012)
TERM LIMITS: Morrell has filed to run for reelection to the Senate, which would only be possible through a legal challenge to term limits. Morrell was elected under Proposition 140 Term Limits, which generally limits Senators to two terms (eight years), although it is possible to serve nearly ten years if elected to a partial term in a special election. Because Morrell was elected in a March 2014 special election (and served about eight months more than half of that Senate term), the current interpretation of the law sawys that he is ineligible for another term.