Matt Dababneh
Democratic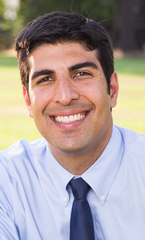 matt2013.org
Candidate Biography:
Matthew Michael Dababneh
Born: February 20, 1981 in Los Angeles, CA
2004: Staff, John Kerry for President campaign
2005-2013: District Director, Congressman Brad Sherman
2018: Resigned from the State Assembly on January 2.
CLOSE CONTEST: Dababneh narrowly won the 2013 Special Election when he defeated Susan Shelley by 329 votes (1.2%).
On December 4, 2017, lobbyist Pamela Lopez named Dababneh as the legislator who had sexually assaulted her at a wedding reception in January 2016. He denied the allegations, saying "I am utterly shocked and blown away." and that "This is a career-ending charge based on no facts." Four days later, on December 8, 2017, Dababneh submitted a letter resigning from the State Assembly effective January 1, 2018. At the end of December, Dababneh submitted a second letter rescheduling his resignation to January 2.
Source: Campaign site [matt2013.org] (accessed 7/29/2013)