Marc Steinorth
Republican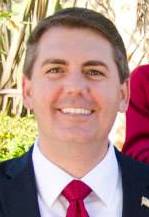 marcsteinorth.com
| Date | Party | Office | Votes | Result |
| --- | --- | --- | --- | --- |
| 11-04-2014 | Republican | AD-40 | 39303 | Win |
| 11-08-2016 | Republican | AD-40 | 76537 | Win |
Candidate Biography:
Born: May 19, 1970 in Sacramento, CA
Married: Maria (m. ~1996)
Children: Madison and Mason
2012-2014: Member, Rancho Cucamonga City Council
2014: Vice Chairman, League of California Cities Inland Region Legislative Task Force
TECHNOLOGY: On December 31, 2014, Steinorth became the first California legislator in state history to make an official policy that he would defriend on Facebook anyone who invited him to play Candy Crush. On January 19th, Steinorth amended the policy to also include Candy Crush Saga. On April 4th, Steinorth amended his policy again to grant an exemption to residents of Assembly District 40.
Source: California Assembly Handbook (2015)