Prophet La'Omar Walker
Democratic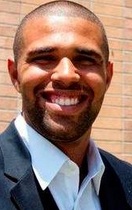 | Date | Party | Office | Votes | Result |
| --- | --- | --- | --- | --- |
| 11-04-2014 | Democratic | AD-64 | 17217 | Loss |
Candidate Biography:
Born: November 23, 1987 in Los Angeles, CA
Child: Priya
Legal Troubles: In 2004, Walker was sentenced to six years in prison after he was convicted of Assault with great bodily injury and robbery. He was incarcerated between 2004 and 2009.
There is some discrepancy in the accounts of the assault. An article at citywatchla.com described it as "Walker got caught up in teenage rambunctiousness which ultimately led to a fight with a group of other teenagers, for which he was arrested and sentenced as an adult to six years in prison for great bodily injury and robbery because he took one of the other combatant's technical devices."
A 2013 report by NBC Los Angeles, "It was a sunny day and he was off from school when he and couple friends decided to take the train to the beach. When they got off, they were surrounded by a group of Latino men. "Someone asked what time it was and the response was not very cordial," he remembers. "What I thought was just a fight that had gone somewhat awry as a 16-year-old turned into me being tried as an adult."
An LA Times profile described the assault as "Walker and two other teenagers robbed three young men over two days, all of them in or around MTA transit lines, authorities charged. One teen menaced the passengers with a dummy .45-caliber pistol. Walker joined the gunman in beating one of the victims badly — breaking his jaw in three places and taking his CD player, sheriff's investigators said."