Eldridge Cleaver
Republican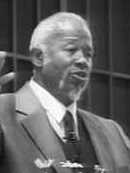 | Date | Party | Office | Votes | Result |
| --- | --- | --- | --- | --- |
| 11-05-1968 | Peace and Freedom | President | 27707 | Loss |
Candidate Biography:
Born: August 31, 1935 in Wabbaseka, Arkansas
Married: Kathleen N. Cleaver (m. 1967, div. 1987)
Child: Maceo and Jojuyounghi
Died: May 1, 1998 in Pomona, CA
1966-1968: Minister of Information, Black Panther Party
1984: Republican Primary Candidate for CD-08 (Lost)
1986: Republican Primary Candidate for US Senate (Lost)
LEGAL TROUBLES: In 1958, Cleaver was convicted of rape and assault with intent to murder. In 1968, Cleaver led an ambush of Oakland Police officers Richard R. Jensen and Nolan R. Darnell. He was charged with attempted murder, and fled to Algeria from 1968 to 1975 to avoid trial. He was in prison from November 1975 until the summer of 1976.
Of note is that Cleaver, who was a member of the Black Panthers in the 1960s, endorsed Ronald Reagan for President in 1980 and 1984.