Todd Gloria
Democratic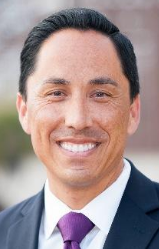 toddgloriaforassembly.com
| Date | Party | Office | Votes | Result |
| --- | --- | --- | --- | --- |
| 11-08-2016 | Democratic | AD-78 | 145850 | Win |
| 11-06-2018 | Democratic | AD-78 | 140598 | Win |
Candidate Biography:
Todd Rex Gloria
Born: May 10, 1978 in San Diego, CA
2002-2008: District Director, Congresswoman Susan A. Davis
2005-2008: Member, San Diego Housing Commission
2008-Present: Member, San Diego City Council
2013-2014: Interim Mayor, City of San Diego
2020-Present: Mayor, City of San Diego
First Native American: Gloria, an enrolled member of the Tlingit Haida Tribes of Alaska, was the earliest known Native American to serve in the California State Legislature.
In 1988 (at age 10), Gloria was the runner-up in the San Diego "Mayor For A Day" contest. He reintroduced the program during his first year as Mayor.