Joseph Cho
Democratic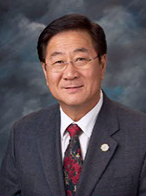 josephcho4senate.com
| Date | Party | Office | Votes | Result |
| --- | --- | --- | --- | --- |
| 06-05-2018 | Democratic | SD-29 | 31726 | Loss |
Candidate Biography:
Born: February 16, 1944 in Japan
Married: Lucy SookHyae Kwon (m. 1972)
Children: Andy, Tony and Jia
Military Service: South Korean Air Force
2003: Candidate for Cerritos City Council (Lost)
2005: Candidate for Cerritos City Council (Lost)
2007-2015: Member, Cerritos City Council
2010-2011: Mayor, City of Cerritos
2017: Founder, Korea-US Peace Institute
2020: Primary Candidate for SD-29 (Lost; 18.1%)
RUNNING: Cho completed his first marathon at age 65. Since then, he has run more than 70.
His campaign website [josephcho4senate.com, accessed 6/30/18] says "Joseph was born in Japan to a Korean family" but his voter registration (dated 9/15/2016) lists his birthdate/place as February 16, 1944 in United States of America. His campaign biography, titled "My Calling", starts; "In 1943, I was born in Kyushu, Japan as the first son of Korean laborers."