Tyler Diep
Republican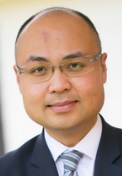 tylerdiep.com
| Date | Party | Office | Votes | Result |
| --- | --- | --- | --- | --- |
| 11-06-2018 | Republican | AD-72 | 83221 | Win |
Candidate Biography:
Born: January 20, 1983 in Vietnam
2005-2009: Senior Field Representative, Assemblyman Van Tran
2006-2008: Member, Midway City Sanitary District
2009-2012: Member, Westminster City Council
2009-2014: Senior Advisor, Board of Equalization Member Michelle Steel
2014-2018: Member, Westminster City Council
2020: Primary Candidate for AD-72 (Lost; 24.8%)
CLOSE CONTEST: At 9:01 pm on election night (March 3rd), Diep was in second place in the AD-72 primary, ahead of third-place candidate Diedre Nguyen by 8% (3,879 votes). Three days later, on March 6th, his lead had dropped to 1,050 votes. By March 9th, Diep was leading Diedre Nguyen by just 309 votes, and on the 11th Nguyen took the lead. By the 13th, Nguyen led by 778 votes. By March 17th, Nguyen's lead had grown to 839 votes.
An incumbent who lost their party primary (in 2020).