Larry A. Elder
Republican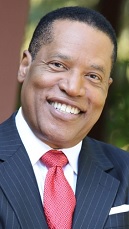 electelder.com
| Date | Party | Office | Votes | Result |
| --- | --- | --- | --- | --- |
| 09-14-2021 | Republican | Governor | 3563867 | Loss |
Candidate Biography:
Laurence Allen Elder
Born: April 27, 1952 in Los Angeles, CA
2023: Early Primary Candidate for President (Withdrew)
In the 2021 Gubernatorial Recall, Elder was initially excluded from the candidate list for note fully complying with a requirement that candidates provide redacted and unredacted versions of their federal tax returns. Betty Chu filed a lawsuit and, according to Secretary of State Shirley Weber, "Based on a recent court proceeding, Elections Code section 8902 was determined not to apply to recall elections; all replacement candidate's income tax returns have been removed from the Secretary of State's website."
In the unsuccessful 2021 Gubernatorial recall, Elder was the recall replacement candidate who received the most votes (47.3%) but he was not elected because the recall did not pass.