Shirley Weber
Democratic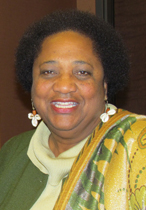 drweber4assembly.com
Candidate Biography:
Shirley Nash Weber
Born: September 20, 1948 in Hope, Arkansas
Married: Daniel Weber (m. 1973, d. 2002)
Children: Akilah Faizah and Akil Khalfani
1988-1996: Member, San Diego City Board of Education
2012: Chair, San Diego Citizens' Equal Opportunity Commission
2016: Delegate, Democratic National Convention
2016: Presidential Elector
2020: Presidential Elector for Joe Biden/Kamala Harris.
2021: Resigned from the State Assembly on January 28.
LEGISLATION: Author of AB 392 (Chapt. 170, Stats of 2019) which amended Penal Code section 835(a) to limit peace officer's lawful use of deadly force to situations in which the officer reasonably believes that such force is necessary to;
1) Defend against an imminent threat of death or serious bodily injury to the officer or to another person, or
2) Apprehend a fleeing person for any felony that threatened or resulted in death or serious bodily injury, if that person will cause death or serious bodily injury to another unless immediately apprehended.
Daniel Weber was an administrative judge for the California Unemployment Insurance Appeals Board in the 1990s.
Akilah Weber is a member of the La Mesa City Council (2019-Present).
Source: Biography at campaign website [drweber4assembly.com] (accessed 5/24/2012)
Source: California Assembly Handbook (2015)