Kamala Harris
Democratic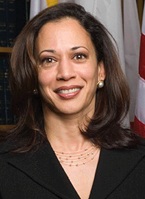 kamalaharris.org
| Date | Party | Office | Votes | Result |
| --- | --- | --- | --- | --- |
| 11-02-2010 | Democratic | Attorney General | 4443070 | Win |
| 11-04-2014 | Democratic | Attorney General | 4102649 | Win |
| 11-08-2016 | Democratic | Senate3 | 7542753 | Win |
Candidate Biography:
Kamala Devi Harris
Born: October 20, 1964, in Oakland, CA
Married: Douglas Emhoff (m. 2014)
1980s: Intern, US Senator Alan Cranston
1990-1998: Deputy District Attorney, Alameda County District Attorney's Office
1994: Member, Unemployment Insurance Appeals Board
1994-1998: Member, California Medical Assistance Commission
1994-1996: Member, California Constitutional Revision Commission
1998-2000: Attorney, San Francisco District Attorney's Office
2000-2004: Attorney, San Francisco City Attorney's Office
2004-2011: District Attorney, San Francisco County
2012: National Co-Chair, Obama for President campaign
2012: Delegate, Democratic National Convention
2016: Delegate, Democratic National Convention
2017: Resigned as Attorney General on January 3.
2020: Primary Candidate for President (Withdrew)
2021: Resigned from the United States Senate on January 18.
CLOSE CONTEST: Harris won the 2010 General election when she defeated Steve Cooley by 74,453 votes (0.8%).
In 2012, Harris was the target of an attempted recall led by James D. Smith. The recall failed to qualify for the ballot.
MINORITY VICTORY: In the 2010 General Election, Harris was the last candidate for statewide office in California to win with less than 50% of the votes cast in that contest (she was elected with 46.1%). The Final Minority Victors were: Kamala Harris (statewide), Jerry McNerney (Congress), Jeff Denham (State Senate), and Richard Pan (Assembly).