Richard Pan
Democratic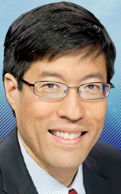 asmdc.org
Candidate Biography:
Born: October 28, 1965 in Pennsylvania
Married: Wen-Li Wang
Children: William and Alexander
Previous: Commissioner, Sacramento First 5 Commission
2016: Delegate, Democratic National Convention
In the 2010 General Election, Pan became the last Assembly candidate in California to win with less than 50% of the votes cast in that contest.
LEGISLATION: Pan authored a series of bills relating to vaccinations. AB 2109 (2012) permitted parents to continue to enroll their unvaccinated children in public schools due to "personal beliefs", but required them to meet with a health care practitioner to discuss the benefits and risks of immunizations. SB 277 (2015) eliminated the "personal beliefs" exemption from immunization and mandate that all children (except for those with medical conditions preventing it) be immunized prior to starting school.
LEGISLATION: Author of SB 530 (2015), which permit passengers to consume alcohol aboard pedicabs (large pedal-powered vehicles that seat 8 or more passengers).
LEGISLATION: Coauthor of SR 39 (2015) which found that "Presidential candidates including Donald Trump have unfairly demonized and falsely blamed undocumented immigrant families for a range of problems and challenges facing the United States" and "calls upon the State of California to divest from" and "private businesses and individuals throughout California to end all business ties with" Donald Trump and his companies.
In 2015, Pan was the target of an attempted recall led Katherine Duran and 49 others. The recall failed to qualify for the ballot.