Jerry McNerney
Democratic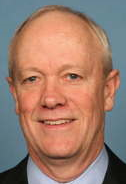 jerrymcnerney.org
Candidate Biography:
Gerald M. McNerney
Born: June 18, 1951 in Alburquerque, New Mexico
Married: Mary
Children: Michael*, Windy, and Greg
2008: Delegate, Democratic National Convention
2016: Delegate, Democratic National Convention
McNerney qualified for the 2004 General Election ballot as a write-in during the Primary.
MINORITY VICTORY: In the 2010 General Election, McNerney became the last Congressional candidate in California to win with less than 50% of the votes cast in that contest (he was elected with 48.0%). The Final Minority Victors were: Kamala Harris (statewide), Jerry McNerney (Congress), Jeff Denham (State Senate), and Richard Pan (Assembly).
CLOSE CONTEST: The 2010 race was particularly close (with McNerney winning by ~2,500 votes or 1%). McNerney declared victory on November 10th.
Michael McNerney was a 2008 Presidential Elector from California.