Bill Brophy
Republican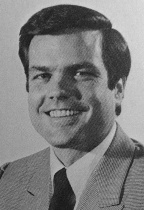 1971 Blue Book
Candidate Biography:
Truman William Brophy IV
Born: September 4, 1935 in San Francisco, CA
Married: Susan Marie Brophy (m. 1972), Michelle Renee Brophy
Chaptered Legislation: During his 414 days in the State Assembly, Brophy authored two bills that were chaptered into law.
Prior to being a legislator, Brophy ran a construction firm in Mexico and Panama. According to a 1978 news report; "A second Panamaninan witness, who requested anonymity, told House investigators that Panamanian leader Omar Torrijos discussed with former California Assemblyman Bill Brophy in the early 1970s the profits which might be made by selling Columbia[n] cocaine in California. But there was no indication Torrijos ever acted on this discussion."
Source: California Blue Book (1971)
Source: "Panama report in closed session" by the UPI, Ellensburg Daily Record (2/21/1978), p. 2