Jimmy Carter
Democratic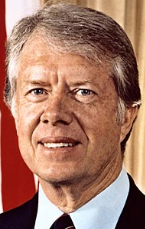 | Date | Party | Office | Votes | Result |
| --- | --- | --- | --- | --- |
| 11-02-1976 | Democratic | President | 3742284 | Loss |
| 11-04-1980 | Democratic | President | 3083661 | Loss |
Candidate Biography:
Born: October 1, 1924 in Plains, Georgia
Married: Rosalynn
Children: John William, James Earl III, Donnel Jeffrey, Amy Lynn
Military Service: USN
1962-1966: Member, Georgia State Senate
1966: Candidate for Governor of Georgia (Lost)
1970-1975: Governor of Georgia
1977-1981: President of the United States
1980: Primary Candidate for President (Lost; 37.7%)*
AWARD: Nobel Peace Prize (2002)
AWARD: Presidential Medal of Freedom (1999)
Carter lost the 1980 California Primary to Ted Kennedy, but won enough states to gain the Democratic nomination.
PLACENAME: James Earl Carter Elementary School is located in Palm Desert, CA.
PLACENAME: The USS Jimmy Carter (SSN-23) is a Seawolf-class attack submarine.