Adrian C. Fondse
Republican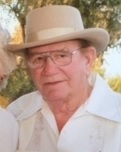 legacy.com
Candidate Biography:
Born: November 30, 1929 in Hanford, CA
Married: Ruth Nies (m. 1951, d. 2021)
Children: Michele, Brian, Randy, and Lorene
Military Service: USN (Korea)
Died: February 5, 2023 in Ripon, CA
1977-1980: Member, San Joaquin County Board of Supervisors
CLOSE CONTEST: Fondse was declared elected and sworn into office on December 1, 1980 with all the other Assemblymembers elected at the 1980 General Election. The election was then successfully contested, and the election was overturned. Patrick Johnston was sworn into office on January 5, 1981.
Fondse was inducted into the San Joaquin County's Agricultural Hall of Fame in 2003 for his "contributions of the farming community..."
Chaptered Legislation: During his 35 days in the State Assembly, Fondse authored 0 bills. He appears to have been the only legislator in the full-time era (1967-present) who had no bills chaptered.
Source: "Stockton, Calif., Chamber Inducts Five into Agricultural Hall of Fame" by Joe Goldeen (10/6/2003) [accessed at highbeam.com]