Patrick Johnston
Democratic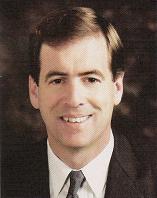 CA Blue Book 2000
Candidate Biography:
Born: September 3, 1946 in San Francisco, CA
Married: Margaret Mary Nevin
Children: P.J. and Christopher
Previous: Vice Chairman, California Democratic Party
Previous: Chief Assistant, State Senator John Garamendi
1991: Resigned from the State Assembly on January 10th.
2004-2007: Delta Region Member, California Bay-Delta Authority
2010-2018: Member, Delta Stewardship Council
NOTE: Following the 1980 General Election, Adrian C. Fondse was declared the winner and was sworn into office as an Assemblyman on December 1, 1980. The election was then successfully contested, overturned, and the seat was declared vacant. Johnston was sworn into the office on January 1, 1981.

LEGISLATION: Boatwright was an author of the Johnston-Baker-Andal-Boatwright Delta Protection Act of 1992.
Source: California Blue Book (2000)
Source: California Assembly Handbook (1981)