Tom Connolly
Democratic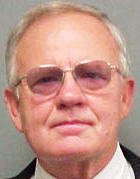 meganslaw.ca.gov
Candidate Biography:
Thomas Maximus Connolly III
Born: May 12, 1946 in Toledo, Ohio
Married: Janet (in 1988)
Military Service: ARMY (Vietnam), USMC (Vietnam)
QUOTABLE: "The people elected under Proposition 140 don't have a pension system or a retirement plan. So, we must go back to the communities we come from and live within the rules that we established here." ("Prop 140 Babies" by Charles M. Price, Capitol Journal (April 1993)
Legal Troubles: In May 1997, Connolly was convicted of two felonies (oral copulation with a person under 16 and a lewd act with a child) after allegations were made by a 14-year-old girl. He is listed on the Megan's Law Sex Offender website.
Source: California Legislature Handbook (1994)
Source: "Ex-lawmaker receives prison term in sex case" by Leslie Wolf, San Diego Union-Tribune (7/4/1997), p. A-1