John Eastman
Republican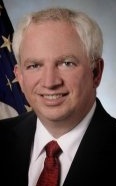 eastmanforag.com
| Date | Party | Office | Votes | Result |
| --- | --- | --- | --- | --- |
| 11-06-1990 | Republican | CD-34 | 36024 | Loss |
Candidate Biography:
Born: April 21, 1960 in Lincoln, Nebraska
Married.
Children: One son and one daughter
1980s: Director of Congressional & Public Affairs, United States Commission on Civil Rights
1995-1996: Law Clerk to Judge J. Michael Luttig, U.S. Court of Appeals for the 4th Circuit
1996-1997: Law Clerk to Justice Clarence Thomas, U.S. Supreme Court
1999 to Present: Constitutional Law Professor, Chapman University School of Law
1999-2021: Director, Center for Constitutional Jurisprudence
2007-2010: Dean, Chapman University School of Law
2010: Primary Candidate for Attorney General (Lost; 34.2%)
2020 Election: Following the 2020 General Election, Eastman served as an attorney for President Donald Trump in his attempt to prevent the certification of the election of Joe Biden. On January 6, 2021, Eastman was a speaker at the "Save America" rally preceding the attack of the United States Capitol.