John Eastman
Republican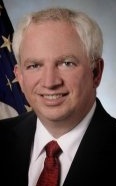 eastmanforag.com
| Date | Party | Office | Votes | Result |
| --- | --- | --- | --- | --- |
| 11-06-1990 | Republican | CD-34 | 36024 | Loss |
Candidate Biography:
John Charles Eastman
Born: April 21, 1960 in Lincoln, Nebraska
Married.
Children: One son and one daughter
1980s: Director of Congressional & Public Affairs, United States Commission on Civil Rights
1995-1996: Law Clerk to Judge J. Michael Luttig, U.S. Court of Appeals for the 4th Circuit
1996-1997: Law Clerk to Justice Clarence Thomas, U.S. Supreme Court
1999 to Present: Constitutional Law Professor, Chapman University School of Law
1999-2021: Director, Center for Constitutional Jurisprudence
2007-2010: Dean, Chapman University School of Law
2010: Primary Candidate for Attorney General (Lost; 34.2%)
2020 Election: Following the 2020 General Election, Eastman served as an attorney for President Donald Trump in his attempt to prevent the certification of the election of Joe Biden. On January 6, 2021, Eastman was a speaker at the "Save America" rally preceding the attack of the United States Capitol.
LEGAL TROUBLES (Federal): On August 1, 2023, a federal indictment of former President Trump named Eastman as a co-conspirator on four federal charges; Conspiracy to defraud the United States, Conspiracy to obstruct an official proceeding, Obstruction of and attempt to obstruct an official proceeding, and Conspiracy against rights.
LEGAL TROUBLES (Georgia): On August 14, 2023, he was indicted in Georgia for twelve felonies; Violation of the Georgia RICO Act, Solicitation of Violation of Oath by Public Officer (2 counts), False Statements and Writings (2 counts), conspiracy to commit impersonating a public officer, conspiracy to commit forgery in the first degree (2 counts), conspiracy to commit false statements and writings (2 counts), conspiracy to commit filing false documents, and filing false documents.
In January 2023, the State Bar of California announced the filing of a Notice of Disciplinary Charges (NDC) for eleven charges against Eastman. The charges include making false and misleading statements regarding purported election fraud, including statements on January 6, 2021, at a rally in Washington, D.C., that contributed to provoking a crowd to assault and breach the Capitol to intimidate then-Vice President Pence and prevent the electoral count from proceeding. The allegation was that Eastman engaged in a course of conduct to plan, promote, and assist then-President Trump in executing a strategy, unsupported by facts or law, to overturn the legitimate results of the 2020 presidential election by obstructing the count of electoral votes of certain states. At hearings in June 2023.