Laura Wells
Green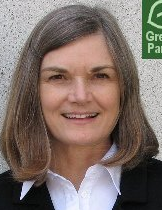 Candidate Biography:
Born: January 2, 1948 in Michigan
Married: ????? (in 19??), currently engaged to Charles Goodwin
Child: Natalia
1992-1994: Member, Green Party County Council in Alameda County
2002: Co-Founder, Green Focus (newspaper)
2005-Present: At-Large Representative, GPCA Coordinating Committee
2014: Primary Candidate for Controller (Lost; 5.7%)
Qualified for the 2018 General Election by running as a write-in in the Primary Election. She received 832 votes.