Robert "Bob" Pacheco
Republican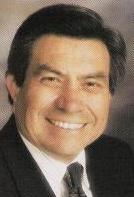 CA Blue Book 2000
Candidate Biography:
Born: June 10, 1934 in Mesilla Park, New Mexico
Married: Gayle Pacheco* (in 1984)
Children: David, Cristina, Anita, Robert and Michael
1990s: Member, City of Walnut Planning Commission
1990s: Member, Walnut City Council
2005-2010: Member, CAL/OSHA Board
2006-2007: Member, US Naval Academy Board of Visitors
2008: Delegate, Republican National Convention
2013-Present: Member, Walnut City Council
2016: Delegate, Republican National Convention
Gayle Pacheco served on the Mount San Antonio College Board of Trustees (1999-2003?) and was a primary candidate for AD-60 in 2004 (Lost; 30.7%). She served on the Workforce Investment Board (2004-2006) and the State Rehabilitation Council (2006-Present). Gayle was a 2010 Woman of the Year (60th Assembly District) [selected by Bob Pacheco]
UNACKNOWLEDGED LATINO: This elected official was excluded from the list of "Previous Latino Members of the Legislature" by the Latino Legislative Caucus [accessed 6/1/2011]. This list was later corrected by renaming it "California Latino Legislative Caucus Former Members" [as of 2/16/2014].
Source: California Assembly Handbook (2000)
Source: California Blue Book (2000)