Nell Soto
Democratic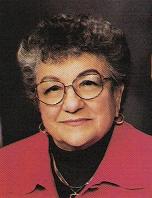 CA Blue Book 2000
Candidate Biography:
Born: June 18, 1926 in Pomona, CA
Widowed: Phil Soto
Children: Philip, Robert, Michael, Patrick, Anna, and Thomas*
Died: February 26, 2009 in Pomona, CA
1987-1999: Member, Pomona City Council
2000: Resigned from the State Assembly on March 13.
2000: Proponent, Proposition 20 [Requires at least 34% of state lottery revenues be spent on public education] (Passed: 53%)
Previous: Public Affairs Representative, Los Angeles County Metropolitan Transportation Authority (10 years)
Previous: Member, South Coast Air Quality Management District
Tom Soto has served as a member of both the California Board of Corrections and the California Coastal Commission.
Danielle L. Soto (granddaughter of Phil and Nell) was a Special Primary Election candidate for AD-52 in 2013 (Lost; 7.5%).
Be Fruitful and Multiply: Soto had six children.
Had a spouse who also served in the legislature (although not concurrently).
RECORD-HOLDER: Soto was the oldest freshman woman legislator in California history, sworn in at age 72.
Source: California Blue Book (2000)