Edward "Ed" Chavez
Democratic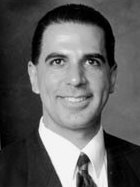 capitolmuseum.ca.gov
Candidate Biography:
Born: December 9, 1963 in La Puente, CA
Married: Renee*
Children: Joe, John, and Robert
1980s: Field Representative, Assemblymember Sally Tanner
1987-1990: Member, Bassett Unified School District Board of Education
1990s: District Director, Assemblymember Martin Gallegos
1990-2007: Member, La Puente City Council
2007: Candidate for Mount San Antonio Community College Board of Trustees (Lost; 22.6%)
2008-Present: Member, Upper San Gabriel Valley Municipal Water District Board of Directors
Renee Chavez was a candidate in the 2006 Primary for AD-57.
When Chavez was elected to the Upper San Gabriel Valley Municipal Water District, he joined Anthony Fellow, who lost the 2000 primary for AD-57 to Chavez. Fellow had served on the Board since 1990. Fellow had previously served on the El Monte City Council for seven years, and in 2009 was elected to the Pasadena Area Community College District Board.
Source: California Legislature Handbook (2001-02)