Tom Harman
Republican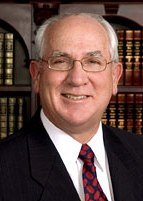 Capitolmuseum.ca.gov
Candidate Biography:
Thomas George Harman
Born: May 30, 1941 in Shawnee Mission, Kansas
Married: Dianne
Children: Michael and Michelle
Military Service: ARMY
1980s: President, Huntington Beach Tomorrow (in favor of slowing city growth)
1995-2000: Member, Huntington Beach City Council
2006: Resigned from the State Assembly on June 12.
2010: Primary Candidate for Attorney General (Lost; 18.2%)
2012: Republican Caucus Chair, California State Senate
LEGISLATION: Author of SCR 13 (2011), designating April 26, 2011 as "Schoolbus Drivers Day".
CLOSE CONTEST: Harman narrowly won the SD-35 Special Election in 2006 when he defeated Diane Harkey by 236 votes (0.24%).
Source: California Legislature Handbook (2001-02)