Sally J. Lieber
Democratic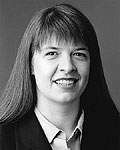 CA State Assembly
Candidate Biography:
Born: April 24, 1961 in Detroit, Michigan
Married: David Phillips
1998-2002: Member, Mountain View City Council
200?: Mayor, City of Mountain View
2006-2008: Speaker pro Tem, California State Assembly
2020: Primary Candidate for SD-13 (Lost; 17.0%)
CLOSE CONTEST: In the 2020 Primary, Lieber was only 2,468 votes behind second-place candidate Alexander Glew by March 10th. On March 11th, she was 1,998 votes away. On March 13th, Lieber's gap had fallen to 1,240 votes. After that, the narrowing of the gap slowed, and by March 17th, it was still 1,181 votes.
Source: California Legislature Handbook (2003-04)