Wiley Nickel
Democratic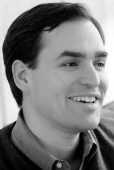 nickelforsenate.com
| Date | Party | Office | Votes | Result |
| --- | --- | --- | --- | --- |
| 11-07-2006 | Democratic | SD-12 | 62539 | Loss |
Candidate Biography:
George Wiley Nickel III
Born: November 23, 1975 in San Joaquin Valley
Married: Caroline Elizabeth Edwards (m. 2007)
1996-2001: Advance Staff, Vice President Al Gore
Previous: Staff, Congressman Dennis Cardoza
Previous: Law Clerk, Ventura County District Attorney's Office
2006: Deputy District Attorney, Merced County
2007-2008: Member, California Postsecondary Education Commission
2008: Staff, Barack Obama for President campaign
2008-2012: Staff, White House National Advance Team
2019-2022: Senator, North Carolina State Legislature
In August 2007, Senate Democrats threatened to recall Senator Jeff Denham because of his refusal to vote for the state budget. Although Nickel denied being involved in the recall, he did indicate that he would run if a recall were held. According to the Salinas Californian; "I'm looking very closely at running if and when the recall happens," Nickel said. The recall qualified for the ballot, but Nickel was not a candidate. The recall election failed.