Anthony Portantino
Democratic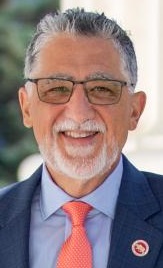 portantinoforassembly.com
Candidate Biography:
Born: January 29, 1961 in Long Branch, New Jersey
Married: Ellen
Children: Sofia and Bella Rose
1998-1999: Member, La Cañada Flintridge Investment Advisory Committee
1999-2006: Member, La Cañada Flintridge City Council
2001-2002: Mayor, City of La Canada Flintridge
2005-2006: Mayor, City of La Canada Flintridge
2011-Present: Member, California Film Commission
2012: Early Primary Candidate for SD-25 (Withdrew)
2012: Early Primary Candidate for CD-32 (Withdrew)
2013-2014: Unruh Visiting Legislator-in-Residence, Jesse M. Unruh Institute of Politics [USC]
2020: Delegate, Democratic National Convention
2024: Early Primary Candidate for CD-30 (Pending)
LEGISLATION: Co-Author of ACR 112 (2010), designating the first week of March as "Cuss Free Week". It died in the Senate Rules Committee.
PRISON REALIGNMENT: Portantino was the only Assembly Democrat to vote against AB 109 (2011), the prison realignment bill (Lou Correa was the sole Democrat in the Senate to oppose the bill). This legislation diverts defendants convicted of less serious felonies to serve their time in local county jail rather than in state prison. These less serious offenses are "non-serious, non-violent, and non-sex" crimes, for example commercial burglary, forgery, or vehicular evasion of a police officer by driving in the opposite direction of traffic.
LEGISLATION: Author of SB61 (Chapter 737, Stats of 2019) which generally prohibits the sale of a semiautomatic centerfire rifle to any person under the age of 21, with exceptions for law enforcement and active duty members of the armed forces. In May 2022, a panel from the 9th U.S. Circuit Court of Appeals found the law unconstitutional because it violates the 2nd Amendment.
LEGISLATIVE PUNISHMENT: In July 2011, the Assembly Rules Committee informed Portantino that his office expenditures had exceeded its budget by $67,179 and that he would need to make expenditure reductions or his entire staff would be forced to take six weeks of unpaid leave. Portantino claimed that his budget was being cut in retaliation for him being the only Democrat to not vote for the state budget in June. Portantino asked that the details of his office budget be made public to substantiate his claim, but Speaker John A. Perez and Assembly Rules declined to release the information, claiming that the information was protected from release by the Legislative Open Records Act.
OPEN GOVERNMENT: In August 2011, Portantino became the first legislator to release their official calendar to the public.
Source: California Legislature Handbook (2007-08, 2009-10)
Source: "O.C. lawmaker involved in Assembly scuffle" by Brian Joseph, Orange County Register (6/16/2011)
Source: "Newspapers sue California Assembly over refusal to release budget records" by Jim Sanders, Sacramento Bee (8/6/2011)
Source: "Legislature has long exempted itself from open-records laws" by Michael J. Mishak, Los Angeles Times (8/7/2011)