James D. Phelan
Democratic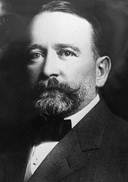 Library of Congress
| Date | Party | Office | Votes | Result |
| --- | --- | --- | --- | --- |
| 11-03-1914 | Democratic | Senate3 | 279896 | Win |
| 11-02-1920 | Democratic | Senate3 | 371580 | Loss |
Candidate Biography:
James Duval Phelan
Born: April 20, 1861 in San Francisco, CA
Died: August 7, 1930 at Villa Montalvo in Saratoga, CA
1897-1902: Mayor, City of San Francisco
1898: President, League of California Cities
1906-1907: President & Custodian, Relief and Red Cross Funds (following the 1906 earthquake)
Phelan was the first popularly-elected Senator from California.
While serving as Mayor of San Francisco, Phelan provided the money that enabled the founding of a state "League of Municipalities" in 1898, which eventually became the League of California Cities.
PLACENAME: The town of Phelan (San Bernardino County) is named for Senator Phelan.
PLACENAME: James D. Phelan Elementary School (in San Jose), California, was named for him. The school was closed due to declining enrollment around 1997, but the facility now houses a preschool and Moreland Discovery Elementary School.
As noted by several resources, one of his 1920 campaign posters read "Keep California White" (this poster is displayed at Japanese American National Museum).
Source: California's Stately Hall of Fame by Rockwell D. Hunt (1950)
Source: "Biographical Directory of the United States Congress, 1774-Present" (U.S. Library of Congress) [http://bioguide.congress.gov/]