Buron Fitts
Republican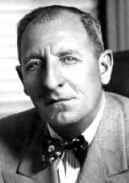 LA Co. District Attorney Office
| Date | Party | Office | Votes | Result |
| --- | --- | --- | --- | --- |
| 11-02-1926 | Republican | Lieutenant Governor | 818519 | Win |
Candidate Biography:
Buron Rogers Fitts
Born: March 22, 1895, on a farm near Belcherville, Texas
Married: Irene Wixson Shugart, Marion G. Warner (m. 1924)
Child: Mary Lou Davis (adopted)
Military Service: ARMY (WWI, WWII)
University: University of Southern California
Died: March 1973 in Three Rivers, CA.
1920-1923: Deputy District Attorney, Los Angeles County
1921: California Commander, American Legion
1923-1927: Chief Deputy District Attorney, Los Angeles County
1928: Resigned as Lieutenant Governor on November 30.
1928-1940: District Attorney, Los Angeles County
OUCH: Fitts was shot three times during his life; the first time was a serious injury to his right knee caused by shrapnel from a 7.7 cm high explosive artillery round (during the Battle of Argonne on the night of September 30, 1918), resulting in a wound that eventually led to the amputation of his right leg in 1928. The second time was an assassination attempt on the night of March 7, 1937 while he was serving as District Attorney; he was shot in the left elbow. The last was when he committed suicide in the driveway of him home at 93271 Three Rivers Road in Tulare.
OUCH: Was involved in at least four airplane crashes, once on a beach in Carpinteria (October 26, 1922), again in Dunsmuir (June 6, 1927) and another crash (later 1927), and finally in Galt (April 8, 1929).
OUCH: Fitts also "suffered mustard gas burns..." during WWI (source)
The Mae West quote "Is that a gun in your pocket, or are you just glad to see me?" was related to Fitts.